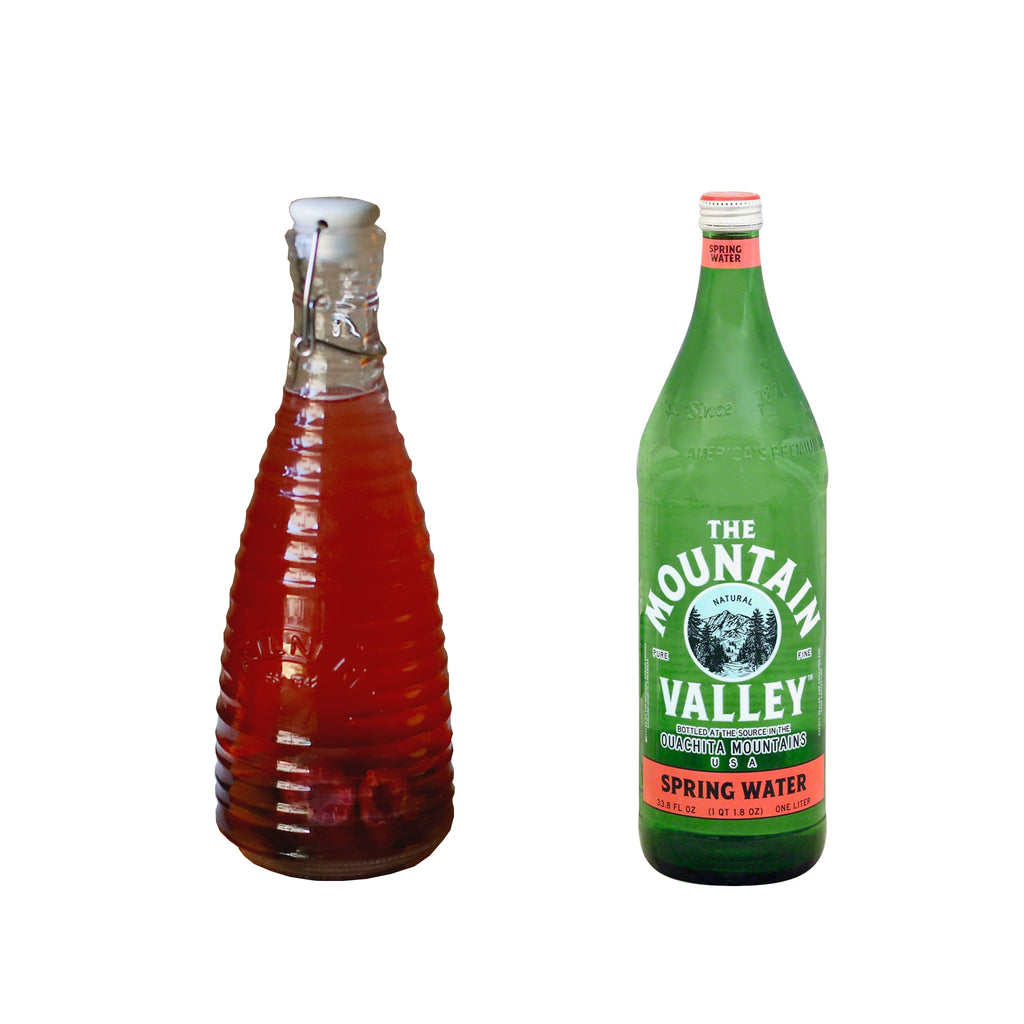 MAXIMUM OF 6 PER ORDER - PLEASE ORDER IN MULTIPLES OF 3 OR 6 SO WE CAN USE THE CORRECT BOX TO SHIP THEM IN SAFELY 
WARNING! CONTENTS UNDER PRESSURE!
REFRIGERATE 24 HOURS UPON RECEIVAL TO REDUCE PRESSURE
CAREFULLY RELEASE GAS AFTER REFRIGERATION! OUTSIDE! NOT INDOORS! 
POINT AWAY FROM BODY, TURN SCREW CAP SLOWLY TO RELEASE GAS, STOP BEFORE LIQUID SEEPS OUT
32oz

Our water kefir is made with the highest quality ingredients - glass bottled mineral water, organic cane sugar, organic molasses, as well as organic fruits. Fresh squeezed organic lemon juice is added to every batch for Vitamin C. 
Water Kefir is the ultimate probiotic drink having a diverse mix of beneficial bacteria and yeasts. Other probiotic drinks such as kombucha do not contain live active bacteria whereas Water Kefir has the ability to restore your gut health.

Made with organic sugar, organic molasses, and glass bottled mineral water. Flavored kefir is made with organic fresh juice (organic lemon juice, organic lime juice, organic ginger juice) 
Product is naturally carbonated from bacterial fermentation. If product arrives with little to no carbonation, add sugar (or Flextrose) and close cap for 24-48 hours to re-carbonate. 
ALWAYS BROKEN
Every single time I order this stuff I have always received at least 2 broken bottles. Myself and my boyfriend have tried getting some sort of replacement and we never get any response even when FRANKIE read our messages on Instagram and left us on seen. HORRIBLE.
Good product BUT always broken bottles
Great product, however every single time I order water kefir I always get damaged bottles AND they ALWAYS ignore my emails no matter how many times I email them.
Pineapple water kefir
I am thankful to find a good source of water kefir as another way to add beneficial probiotics to my diet and to help with the many various ways that fermented foods are beneficial to health. It came very well packaged and full of effervescent, probiotic goodness. As always if people don't know what Kefir taste like it is not very sweet as one might think nor is it supposed to be.
Good product but haven't recieved refund
I love Frank's water kefir BUT I've messaged Frank 4-5 times regarding a refund so to some of the bottles breaking during shipping and I have not been reimbursed
Best thing on the planet
This thing truly works in seconds in making your stomach feel better, I can eat practically anything again, and it also makes me feel good, which is great too. And a very added bonus, I hope one of these days he sells this in stores across the country! I also can't wait for the flavors to come back! 🍎 🍋 🥥 🍊 🙏👍👍💯