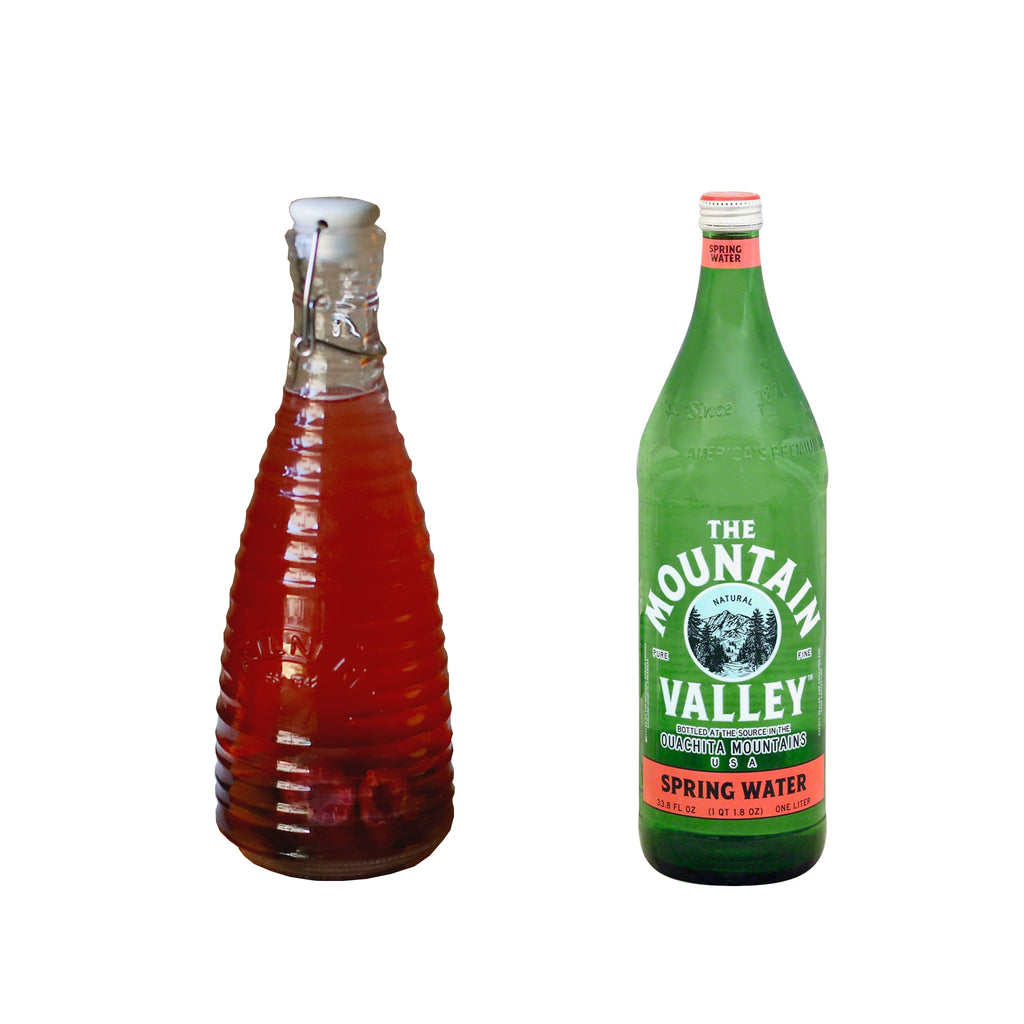 MAXIMUM OF 6 PER ORDER
WARNING! CONTENTS UNDER PRESSURE!
REFRIGERATE 24 HOURS UPON RECEIVAL TO REDUCE PRESSURE
CAREFULLY RELEASE GAS AFTER REFRIGERATION! OUTSIDE! NOT INDOORS! 
POINT AWAY FROM BODY, TURN SCREW CAP SLOWLY TO RELEASE GAS, STOP BEFORE LIQUID SEEPS OUT
32oz

Water Kefir is the ultimate probiotic drink having a diverse mix of beneficial bacteria and yeasts. Other probiotic drinks such as kombucha do not contain live active bacteria whereas Water Kefir has the ability to restore your gut health.

Made with organic sugar, organic molasses, and glass bottled mineral water. Flavored kefir is made with organic fresh juice (organic lemon juice, organic lime juice, organic ginger juice) 
Product is naturally carbonated from bacterial fermentation. If product arrives with little to no carbonation, add sugar (or Flextrose) and close cap for 24-48 hours to re-carbonate. 
Best thing on the planet
This thing truly works in seconds in making your stomach feel better, I can eat practically anything again, and it also makes me feel good, which is great too. And a very added bonus, I hope one of these days he sells this in stores across the country! I also can't wait for the flavors to come back! 🍎 🍋 🥥 🍊 🙏👍👍💯
One bottle broke upon delivery
One bottle broke upon delivery, and I haven't received a response from [****] even after following up with them about this, including pictures of the broken glass bottle and the water kefir spilled into the delivery box.
More! This stuff is the best!!!
This is THE best Water Kefir on the market, it LITERALLY saved my digestion, I'm hoping it gets back in stock soon, cuz the water kefir in my local area doesn't even come close to this
Tastes So Freakin Good
I feel as if I'm addicted to it now. I love it. My favorite drink now besides raw milk. I think I prefer it to the raw kefir I've been having
eating disorder and a f**ed gallbladder
this is the best thing life has to offer and i'm not even joking. i wish i could make a monthly subscription to this shit but just gotta wait for mine to ferment. ordered more of franks while i wait lol.
going from having it to not is a clear difference. water kefir is medicine in so many ways. this and mastic gum combined is a powerful thing.
thanks frankie.