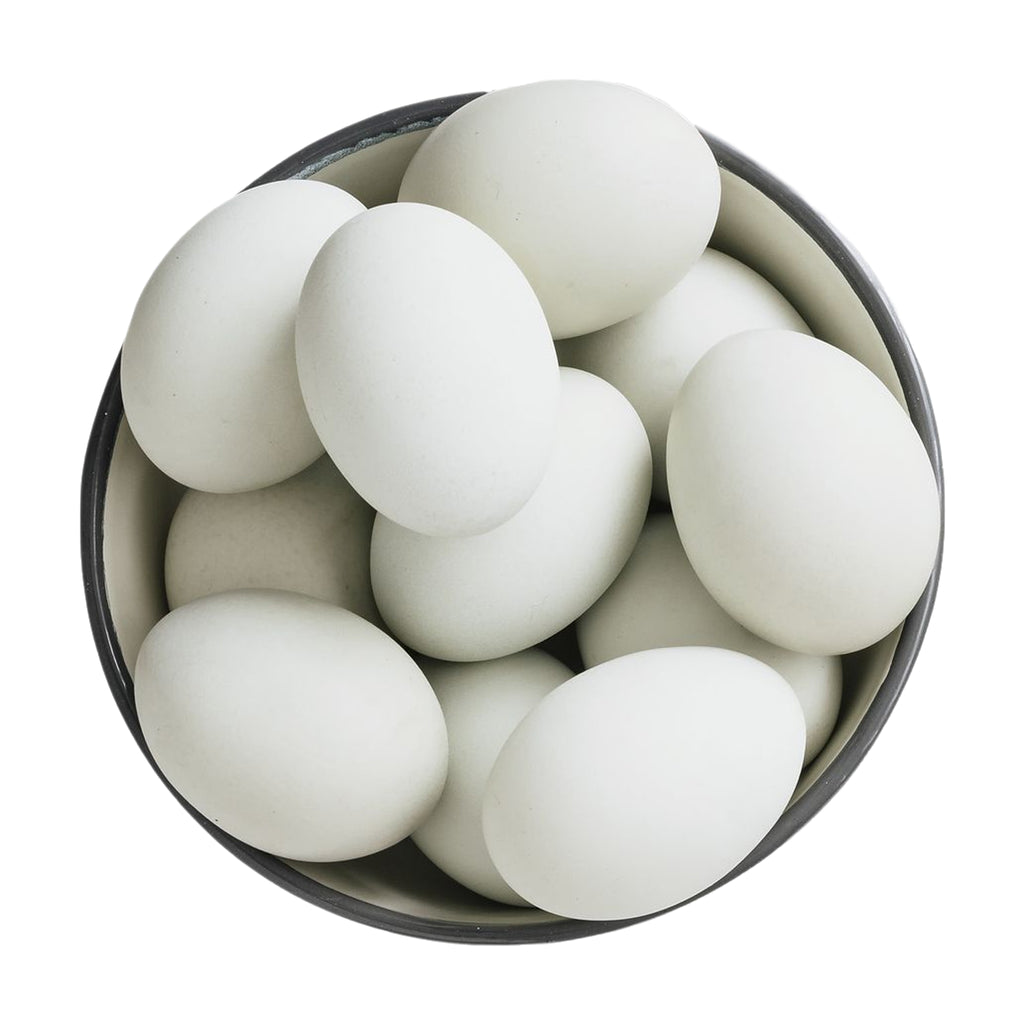 3 dozen
Duck eggs are larger and richer than chicken eggs
OUR EGGS DO NOT REQUIRE REFRIGERATION SO THEY WILL BE SENT WITHOUT ICE
Local Amish farmer is raising ducks on our custom formulated corn and soy-free feed. No fishmeal added. 

Why Eggs? 
Eggs are one of the most nutritionally complete foods available. They have a complex vitamin and mineral profile with such a unique composition that no other food compares. Besides animal brains, eggs are the only highly available source of omega 3s outside of fish. 
Corn and Soy free? 
 The current food market is littered with terminology to make you think you are eating healthy (natural, vegetarian feed, free-range, pasture raised) without actually providing a higher quality product as those chickens are still being fed genetically modified corn and soy that is littered with agrochemicals. (herbicides, pesticides, fungicides, glyphosate) Unless your about to steal some eggs from a local bird nest, this is as good as it gets! 
Eggs
Very tasty and a good price
Pasture Raised DUCK Eggs (Corn and Soy Free)
Thank you so much!
Finally! I can have eggs without any GI upset! Thank you so much! Some eggs are small for duck eggs but I don't mind. A couple were cracked in shipment but that was to be expected… they're eggs traveling across the country lol. Good eggs and good price. Thanks so much!
Best Pasture raised corn and soy free eggs
Best price for these superior quality eggs and very reasonable shipping price. Doesn't require refrigeration for 2-3 weeks which is perfect and a good time frame to consume 3 dozens. Full of amazing nutrients that make you feel amazing.
Don't be deceived by many so called "Pasture Raised" egg companies that claims their hens are pasture raised but still feeds their hens a bunch of soy. Nobody wants that garbage.
Excellent
Love the eggs. Tastes great