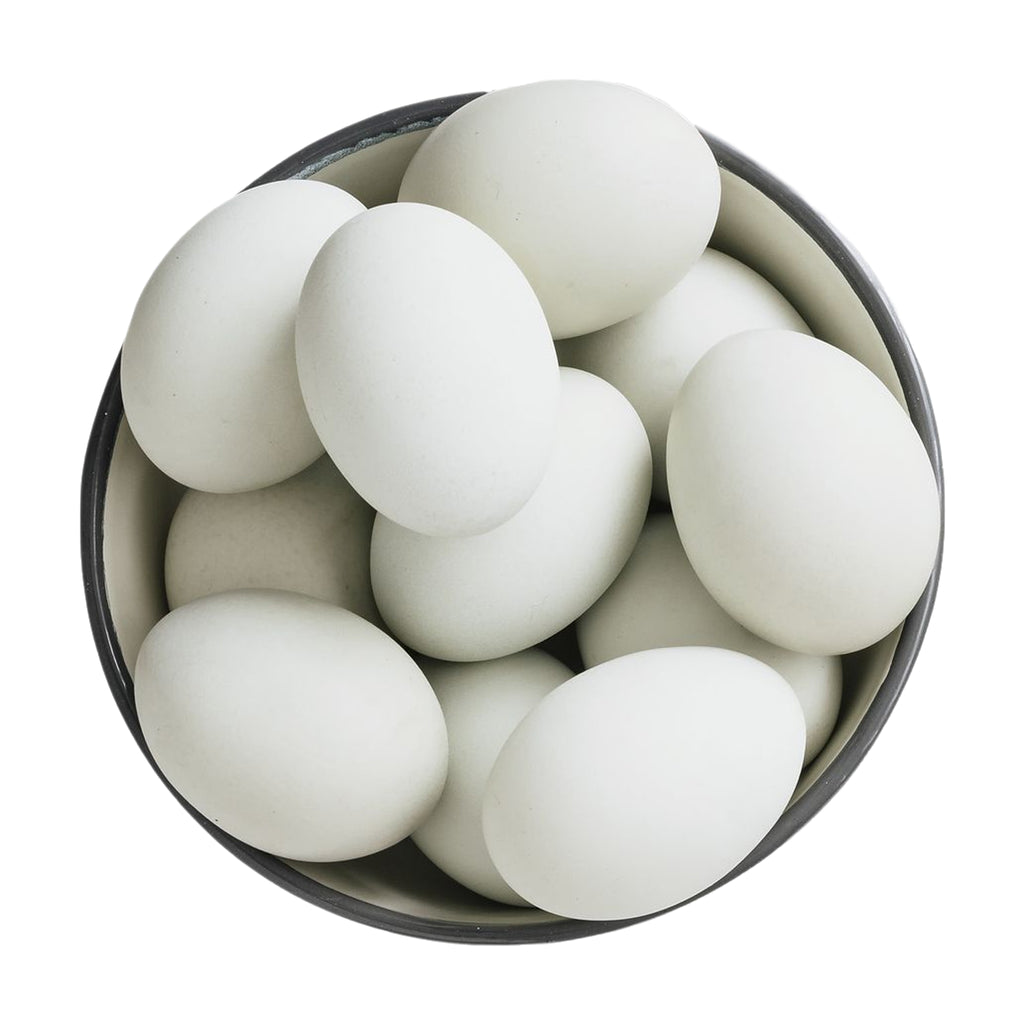 3 dozen
Duck eggs are larger and richer than chicken eggs
OUR EGGS DO NOT REQUIRE REFRIGERATION SO THEY WILL BE SENT WITHOUT ICE
Local Amish farmer is raising ducks on our custom formulated corn and soy-free feed. No fishmeal added. 

Why Eggs? 
Eggs are one of the most nutritionally complete foods available. They have a complex vitamin and mineral profile with such a unique composition that no other food compares. Besides animal brains, eggs are the only highly available source of omega 3s outside of fish. 
Corn and Soy free? 
 The current food market is littered with terminology to make you think you are eating healthy (natural, vegetarian feed, free-range, pasture raised) without actually providing a higher quality product as those chickens are still being fed genetically modified corn and soy that is littered with agrochemicals. (herbicides, pesticides, fungicides, glyphosate) Unless your about to steal some eggs from a local bird nest, this is as good as it gets! 
Update to previous review
I initially gave a poor review as my eggs, ordered on 6/28 had not arrived and it was hard to find out the reason for the delay. Well, 6 dozen eggs arrived today 7/12. Not one is cracked. Still haven't eaten any, but I'm feeling a little better.
Smell is slightly offputting
First time trying duck eggs. The shipment took a while but they all came. I didnt see any of them cracked so all good there. They smell a bit weird When cooked and the shells are friggin thick and hard. Definitely different from chicken eggs but still edible. Thanks for offering these Frankie. Not sure if i would buy these again but tonight i will try the chicken eggs and will likely get more of those from you🙂
Expectations can deminish: Though not destroyed
Overview in order. 7 of the 36 duck eggs where broken upon arrival.But FFRF reimbursed me for the losses. Kudos to customer support. I'd never had duck eggs, that I can remember, but after reading many reviews, I had this notion they would be total game changer is taste and size, While they are good, They aren't game changers.The yolk is more orange than a standard chicken egg but the eggs themselves aren't any bigger than a large chicken egg.I'm happy to get to try something different. No regrets.
Pretty spiffy
Trying to max out my testosterone so the soy-free eggs are a must. They taste like eggs, nothing too crazy. I've eaten 5 eggs a day for the past year so I consider myself a subject matter expert haha. A bit bigger than chicken eggs, but not quite as large as other duck eggs I've had before. The creamier yolk is nice and makes for good scrambled eggs. They arrived in one piece with no damage. Overall very happy, will buy again.