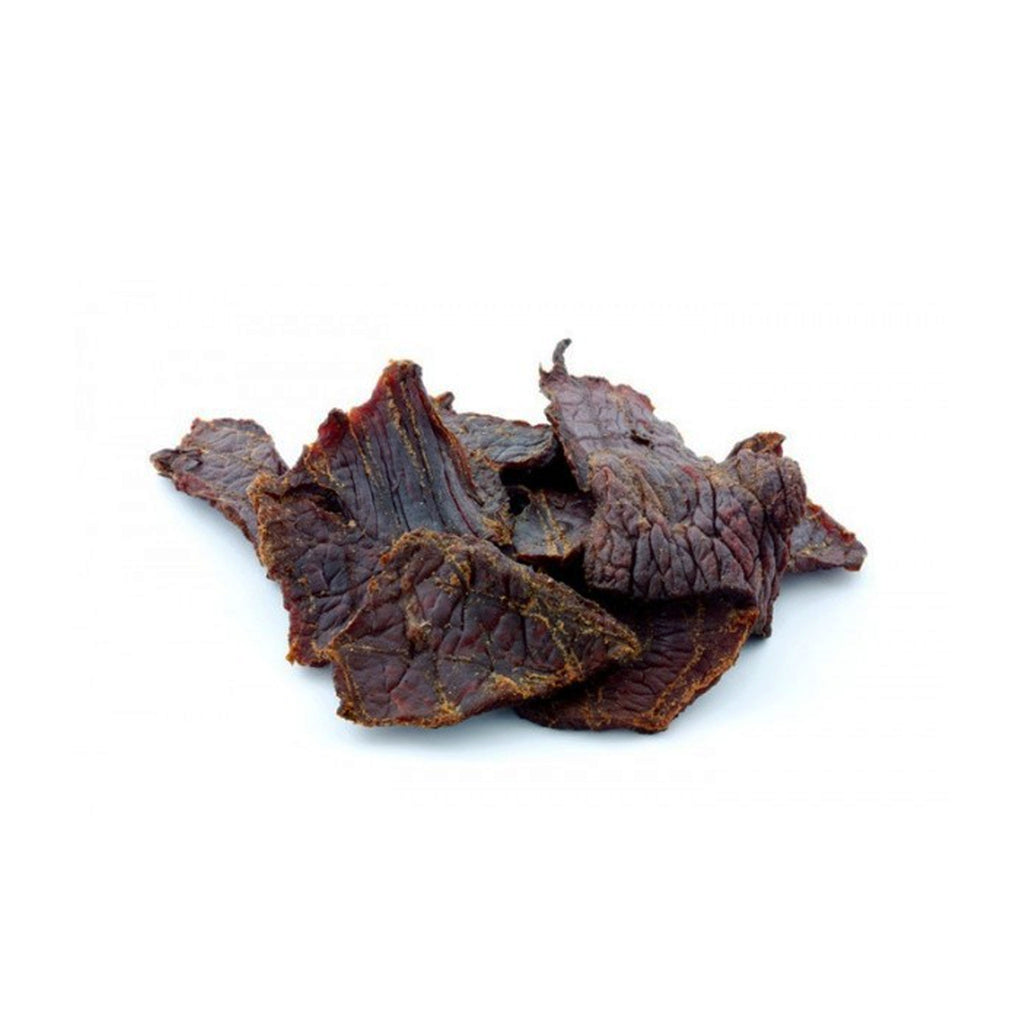 Our beef jerky is as pure as can be! 100% Grass Fed meat dried at a low temperature 
Plain Jerky: Nothing added (NO SALT)
Steak Seasoning: Organic Coconut Aminos, Frankie's Steak Seasoning (Organic)
Salt & Pepper: Land Salt, Organic Black Pepper
Teriyaki: Organic Coconut Aminos, Organic Apple Cider Vinegar, Organic Honey, Organic Garlic, Organic Ginger, Land Salt 
10/10 beef jerky.
I've tried both the salt & pepper and teriyaki and both are 5 star. The salt & pepper have a very distinct tallow taste which I love and prefer
(plain flavor) took some getting used to, but very good
The flavor profile of the unsalted, grass-fed meat was not what I was expecting. To be fair, I didn't really think it would be that drastically different from other jerkies I have had in the past. It is of an incredibly bland taste, and the texture and flavor of the fat in the meat is very pronounced. The meat is also very tough, as other reviewers have noted. Those pronounced differences aside, incomparably better quality wise than store-bought jerkies, as I can attest that what Frank espouses in his videos on available free range, grass-fed beef jerky is my own experience as well. Practically non-existent even in my local health foods store. Combined with the lack of guaranteed proper certification rampant in the "grass-fed" label market, I would choose Frank's products as head and shoulders above what else is commercially available. As a note, when I received my order, there was some penicillin mold on some of the meat, but this was a non-issue for me personally. Very impressive operation that he is running, and hopefully with time, will only get better.
Little tough for my personal preference but good taste on all 3 flavors
i wanna cry
best jerky on the market - tried them all, i think getting the plain and adding yourself the salt and pepper is the best, the teriyaki one is definitely interesting.
would love a cheaper version made from lower tier cuts
Pure beef Jerky
If you like the taste of grass fed and Tallow, this is for you. If you're looking for the jerky from the grocery store this may not be for you.